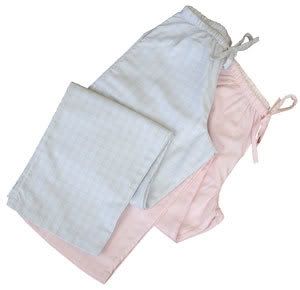 So for the last 3 Christmas Eves, I've made jammies for everyone who's here. That's usually me, Tyler, my mom, and (last year) Tyler's mom Donna.
I really enjoy sewing. It's relaxing for me. I love spending time at the stores shopping for fabric, figuring out what style we'll have, how the accents will work out and what can be done so that they're similar in style but everyone has his or her own distinct pjs that year and also so no one gets the same pjs from year to year.
So 3 years ago I bought a pattern for adult jammies. The pattern was sized XS-XL. I knew I was pushing it for the XL ... but that's the pattern I got so that I wouldn't have to get 2 patterns.
The first year the fabric was navy-ish blue and I had a really cute penguin fabric for accents. I cut pants that were bigger than the XL pattern for myself and Tyler. They were a little tight, but like I said, I was not going to buy two different patterns.
Last year the fabric was a beautiful Christmas toille in burgundy on a cream colored linen-look background with solid burgundy fabric and cream satin ribbon for accents. I cut the XL pattern for Tyler and myself, but this time I cut out the size for real. They were a little tight, but I knew that our penguins from the year before were getting big for us.
This year's fabric is dark green with 2 shades of green and gold snowflakes printed on it. The accents are gold ribbon and a kind of funky "South Main" green. I cut out the L pattern for Tyler and myself. They're really comfy.
Next year ... I have some ideas for the fabric. I won't share that though. I always keep that a secret and surprise until they're opened on Christmas Eve. I will share though that I want to cut out M jammies for myself. Either M or maternity ... either way, I have to loose about 20 pounds to do so. I'd really like to loose more than that. I still have about 40 pounds to loose off of my original goal of 100. And while jammies may seem like a silly motivator, they're working for me ... well ... jammie sizes and the hope for a healthy baby ... and a new pattern to get for kid pjs someday soon. (And no. We're not expecting yet. I'm just musing ...)